If you are looking for carpets in Cirencester and Swindon, we are sure to have your perfect style. Here at Design Flooring Cirencester, we stock a range of carpets in various designs and colours. We also offer a complete fitting service, so you can have brand new carpets in your home or commercial building in no time at all. Whether you are looking for traditional wool or easy to clean synthetic carpets, we can help you make the right choice.
Our experts are always on hand to talk you through our extensive range. For more information, please get in touch with us or visit our showroom today.
From stripes to patterns and budget to luxury, our range has a style for any room. We supply and fit a number of reputable brands including:
Riviera
Victoria
Manx Tomkinson
Hugh Mackay
Cormar
Lifestyle
Kingsmead
Fibre Flooring
Within these carpet ranges we have 100% Wool Carpets – British and New Zealand Wool. We also have good quality 80/20 Carpets as well as 50/50 and 100% Man Made. 
We also offer natural flooring such as Sisal and Seagrass, these make wonderful carpets throughout the home but we can also have made these made into bespoke rugs from Fibre Flooring.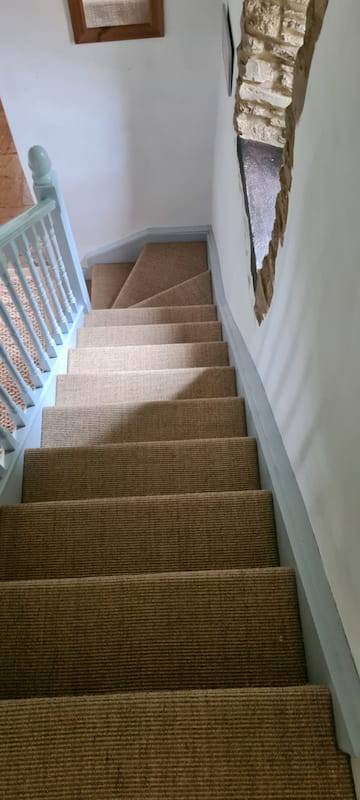 Our team have years of experience in carpet fitting within domestic and commercial properties. During your consultation, we will discuss how we will prepare your room, including the furniture that will need to be removed and if we need to trim any doors. Moving excessive amounts of furniture can be a tricky task, and our fitters are happy to do this for you.
We can fit your new carpet over your current underlay, however we recommend purchasing a new one. The underlay is what supports your carpet and is crucial for making it look like new for as long as possible! We offer an 8 mm underlay which is suitable for many rooms, and we also have a 10 mm option for a more luxurious feel.
Get in Touch with Design Flooring Cirencester
For beautiful carpets at affordable prices, get in touch with us today. To see samples of our range, pop over to our showroom in the centre of Cirencester.